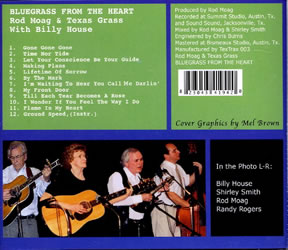 (click image above for larger view in a new window; close window to return here)
Newest Rod Moag & Texas Grass
Bluegrass From the Heart
TexTrax 003. Recorded in Austin, Texas
Rod Moag's story is one of amazing accomplishment. The gentlemanly and multi-talented "Pickin' Singin' Professor" is still going strong with the release of Bluegrass From The Heart, Rod's sixth album release since settling in Texas in 1988. That's pretty impressive for a guy who has split his time between being a college professor (recently retired), deejay (currently at KOOP-FM, Austin) multi-instrumentalist, performer, recording artist, record producer, author, historian and more!
In 2000, along with his singing partner Shirley Smith and bassist Randy Rogers, Rod formed his current band, Road Moag & Texas Grass. On Bluegrass From The Heart, they are joined by Texas bluegrass pioneer Billy House, who many will remember from the legendary House Brothers band, on guitar, as well as Rolf Sieker and Mark Stockton on banjo. Rod contributes mandolin, fiddle and rhythm guitar. The songs are from sources as diverse as Rod's musical interests and background would suggest, including classic to contemporary bluegrass, early country, western swing, folk/Americana, and gospel, all sensitively and effectively rendered with a bluegrass touch by Texas Grass.
Bluegrass From the Heart is just what its title implies. No doubt it will swell the ranks of the fans and friends of Rod Moag & Texas Grass.
To purchase or hear a couple of the songs in mp3, visit the Discography Page.
---

Rod's Newest: Remember Me
(click image above for larger view in a new window; close window to return here)
Remember Me: Bill Malone and Rod Moag Play the Music of the Bailes Brothers
(Hillbilly Dreams 001). Recorded in Austin, Texas.
This is a collaboration between two retired professors, and Rod's first duet project. The CD has been in the making for the last couple of years. Moag and Malone first recorded the songs with mandolin and guitar in an Austin, Texas studio, but during the last several months, Rod has added other instruments to the mix and has brought in several of Austin's finest musicians: Lloyd Maines (father of Natalie), Cindy Cashdollar, Justin Trevino, and others. He in fact was able to enlist the services of Tim O'Brien, when O'Brien gave a concert in the Texas Capitol City. The last remaining Bailes Brother, Homer, an 83 year old retired Methodist minister, also appears on two songs. The Bailes Brothers were an immensely popular act both on the Grand Old Opry and later on the Louisiana Hayride, as well as on recordings, in the 1940s, but are largely forgotten today. Listening to Homer's singing will give a sense of the vigor and power that distinguished the singing of the Bailes Brothers nearly six decades ago.
Rod and Bill met several years ago when Malone was in Austin to give a talk on country music. They discovered that they not only had lifelong affection for the music of the Bailes Brothers, but that they also were part of an Austin-Madison connection. Bill graduated from the University of Texas in Austin, but wound up in Madison, Wisconsin. Rod graduated from the University of Wisconsin in Madison, but wound up at the University of Texas in Austin where he taught Asian Indian Languages. While at the University of Wisconsin in the 1960s, Rod had been a member of one of Madison's earliest bluegrass bands, the Bluegrass Hoppers (see Rod's discography section). On this tribute to the Bailes Brothers, Moag and Malone strive to recapture the Brother Duet vocal blend of the 1940s, while also featuring a variety of instrumental accompaniments--everything from the Texas Shuffle Beat to bluegrass). The CD packaging, which recalls the hillbilly song folios of the 1940s, was expertly fashioned by Spencer Walts, a Madison Wisconsin graphic arts designer.
Bill and Rod hope that these recordings will rekindle an interest in the music of the Bailes Brothers, and that listeners will gain a renewed interest in and appreciation for the themes of tragedy, lost love, and fundamentalist fervor that once characterized country music.
To purchase or hear a couple of the songs in mp3, visit the Discography Page.
---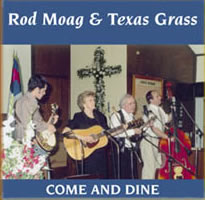 Also available is the album, Come And Dine, a recording of bluegrass gospel. Recorded with Matt Menefee (banjo), Earl Garner (fiddle), Randy Rogers (baritone & vocals & upright bass), Mack Smith (guest vocals), Shirley Smith (harmony vocals), and of course Rod Moag (everything else), this collection of new and traditional songs is about, as Rod put it, "country values which have guided and sustained me thoughout life."
To purchase or hear a couple of the songs in mp3, visit the Discography Page.