---
Rodney Frank Moag, 1936 - 2023
---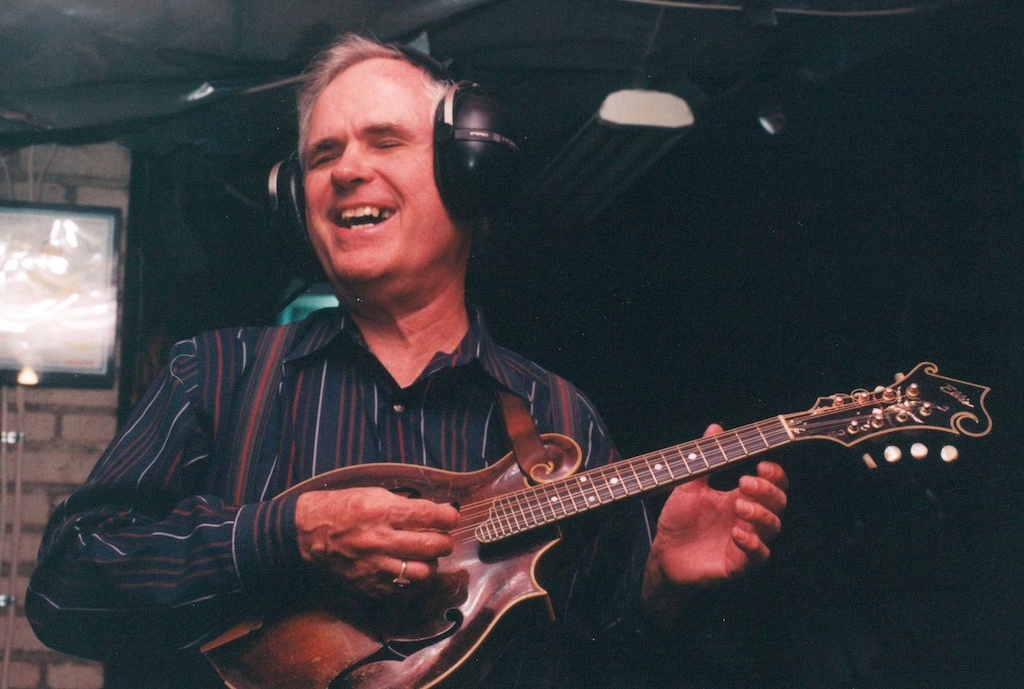 Rod Moag during a 1999 recording session for his bluegrass tribute to Bob Wills, Ah-Haa! Goes Grass (Photo by Jeff Moag)
Dear friends, Rod passed away Thursday evening, the 19th of January 2023, surrounded by his three children.
All the previous week local friends had visited his bedside, while others from across the country and around the world sent their love and remembrances.
Life Celebration Jamboree
Rod's wish was that his loved ones celebrate his life in appropriate fashion, and planning for his Life Celebration Jamboree in Austin later this year is underway. Given Rod's many circles of friends – musicians, KOOP radio folks, academics, ham radio enthusiasts and the central Texas Malayali community to name a few – we anticipate the Jamboree will be like a Venn diagram with a party in the middle. Rod wouldn't have wanted it any other way.
Please email jeffreymoag@gmail.com with your name and contact information to be added to the guest list.
All are welcome, and the family will update everyone on the list as the party comes together.
In Lieu of Flowers
Nothing would mean more to Rod than holding a place in your heart for his memory. For those who wish to make a contribution, the family suggests a donation in his name to KOOP Community Radio or support for the forthcoming Rod Moag Musical Trust.
The Trust will support up-and-coming Bluegrass and Western Swing musicians with the loan of quality instruments, including Rod's own 1954 Martin D-28 guitar and 1846 Giuseppe Baldantoni fiddle. With sufficient support we hope also to endow a modest scholarship. A formal announcement with additional details will be made at Rod's Life Celebration Jamboree.

Remembering Rod Moag, The Pickin' Singin' Professor
–
Rodney Frank Moag, professor emeritus at the University of Texas, longtime community radio host, musician, and recording artist, died Thursday evening, Jan. 19 in Austin, surrounded by family and friends. He was 86.
Rod was born in 1936 to Hugh Alexander Moag and Imogene B. Hodges Moag in Wyoming County, New York. He had juvenile glaucoma at birth and entered the New York School for the Blind just before the age of five, boarding there during the week and returning home each weekend. He was completely blind at 7.
The blind school gave him the skills to thrive in a sighted world and his only formal musical training. At school he learned piano and played in the dance band, but his abiding passion was the country music he heard on the radio and the secondhand Victrola phonograph that his father, a store clerk and later a dairy worker, brought home when he was 7 years old. Soon Rod was playing along on guitar, mandolin, fiddle, and any other instrument close to hand.

Rod Moag, left, in a 1955 publicity photo for his live program on WBTA radio in Rochester, New York. The photos were sold to fans for 25 cents plus 10 cents postage. (Courtesy of The Moag Family)
By the time he graduated high school, he had a live weekly set on WBTA radio out of Batavia, New York. He kept at it for two years, gigging nights and working days in a factory making and packing electrical fuses, before accepting a scholarship to Syracuse University to study broadcasting. There he discovered a love and talent for languages, adding German, Russian, Italian, and Portuguese to the Spanish he had learned in high school. One memorable summer he lived for a time in Florence, Italy, and then in Munich, Germany, where he quickly caught on with a local country band. The leader asked him to stay and front a band of his own on the G.I. circuit, but Rod already had decided on an academic career. After joining a train tour of the Soviet Union to practice his Russian and see for himself what all the Cold War fuss was about, he finished at Syracuse and began his graduate studies in linguistics at the University of Wisconsin–Madison.
He soon landed a Fulbright scholarship to study the Hindi language in India, where he met and married his first wife, Rachel Lileet-Foley, also a Fulbright scholar. Their return home took them by ship to Mozambique, by thumb to Johannesburg, and then hopscotching up the African continent to Egypt, Israel. They traveled all through Europe in a blue 1963 Volkswagen Beetle they bought factory-new in Germany, which they then shipped to New York and drove to Madison to continue their studies.
A mentor at Wisconsin soon came to Rod with a proposition. The Peace Corps was preparing to send volunteers to the state of Kerala in southwest India and needed training materials for the language spoken there. The young couple would have 12 weeks to learn the Malayalam language from scratch and train the volunteers. That challenge complete, they finagled a grant to go to India and continue their study of the language. They arrived in the spring of 1966 with an infant son, broke down the complex Malayalam syntax, and began work on Malayalam: A University Course and Reference Grammar, still the definitive text on the language.
Back in Madison to finish his doctorate, Rod played mandolin with the Bluegrass Hoppers and wrote the title track for The Country's Come to Town, the first of more than ten albums he would record in his lifetime. As "The Pickin'-Singin' Professor," Rod combined an encyclopedic knowledge of bluegrass, classic country, and Western swing music with an engaging stage presence and gregarious all-are-welcome persona that brightened music festivals and jam sessions wherever his professional life took him.
In the Seventies he taught at the University of Missouri and then in Fiji, where he spent three years studying and writing the seminal textbook on Fiji Hindi, a distinct language spoken by Indian people brought to the islands as indentured sugar workers in the 19th Century.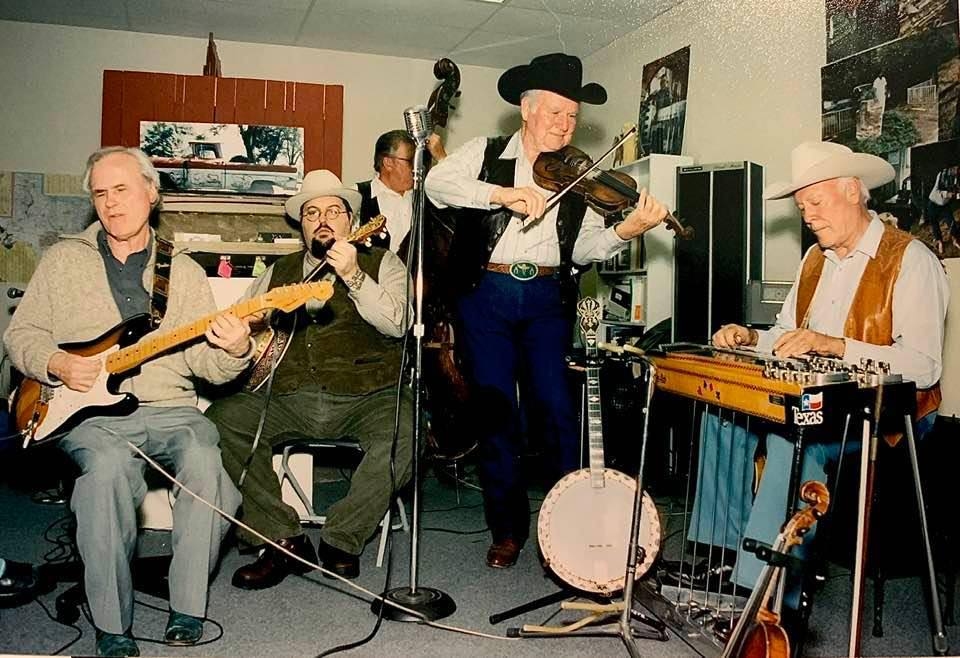 Rod Moag, left, celebrating an album release with Mark Rubin, Johnny Gimble on fiddle, and Bill Dessens on pedal steel (Photo by Bob Zink)
He came to Austin in 1981 to start the Malayalam program at the University of Texas, teaching at all levels until his retirement in 2004. His arrival in Texas coincided with a full-on immersion into Western swing, a foot-shuffling amalgam of country and big-band jazz that filled Texas airwaves and dance halls from the Forties onward. Rod was a fixture at Austin jam sessions, performances at Threadgill's and Artz Rib House, and the annual Bob Wills Day in Turkey, Tex.
In the Nineties Rod had a regular gig at Ski Shores Cafe, a riverside venue popular with boaters. At the end of each show he would routinely walk out onto the dock, causing some consternation among those who had never seen a blind man stroll a narrow boardwalk while squeezing honky tonk licks from the lower frets of a Gibson Les Paul.
When word of their concern reached Rod, he arranged for a friend to position a small boat under the dock, then walked straight off the end. He paused a beat for the crowd to gasp, then stood up in the boat and kept playing. "We're trying to figure out what we have to do to top that," Rod told the Austin Chronicle's Christopher Gray for a 1996 feature. "I've thought about a parachute jump." (He'd already been skydiving, but never with the Les Paul.)
Rod's showmanship found a permanent home at KOOP Radio, where he hosted the Country, Swing & Rockabilly Jamboree every Thursday morning for 25 years, and where a studio was named in his honor last month. Rod was voted "Human Being of the Year" in the Music City Texas Poll (twice!), and in 2015 was inducted into the Texas Western Swing Hall of Fame.
In the last decades of his life, Rod produced a number of tribute albums showcasing talented young musicians with legendary swing players including Johnny Gimble, Herb Remington, and Floyd Tillman. Fellow KOOP deejay Tim Hertenberger called Rod's Salute to the Heroes Of Texas Swing (2003) one of the best swing albums ever made, and his Ah-Haa! Goes Grass (2000) is a genre-bending take on Bob Wills classics with bluegrass instrumentation and high-lonesome harmonies. The album encapsulates the inclusiveness, eclectic enthusiasm, and adventurous spirit with which Rod lived his entire life. And yes, it swings.
Rod earned his amateur radio license as a 14-year-old at the New York State School for the Blind and remained a ham radio enthusiast throughout his life. He operated most recently as W5NDS from his Austin home, which all of his many friends - academics, musicians and hams alike - knew to find by the antenna towers sprouting high above the roof.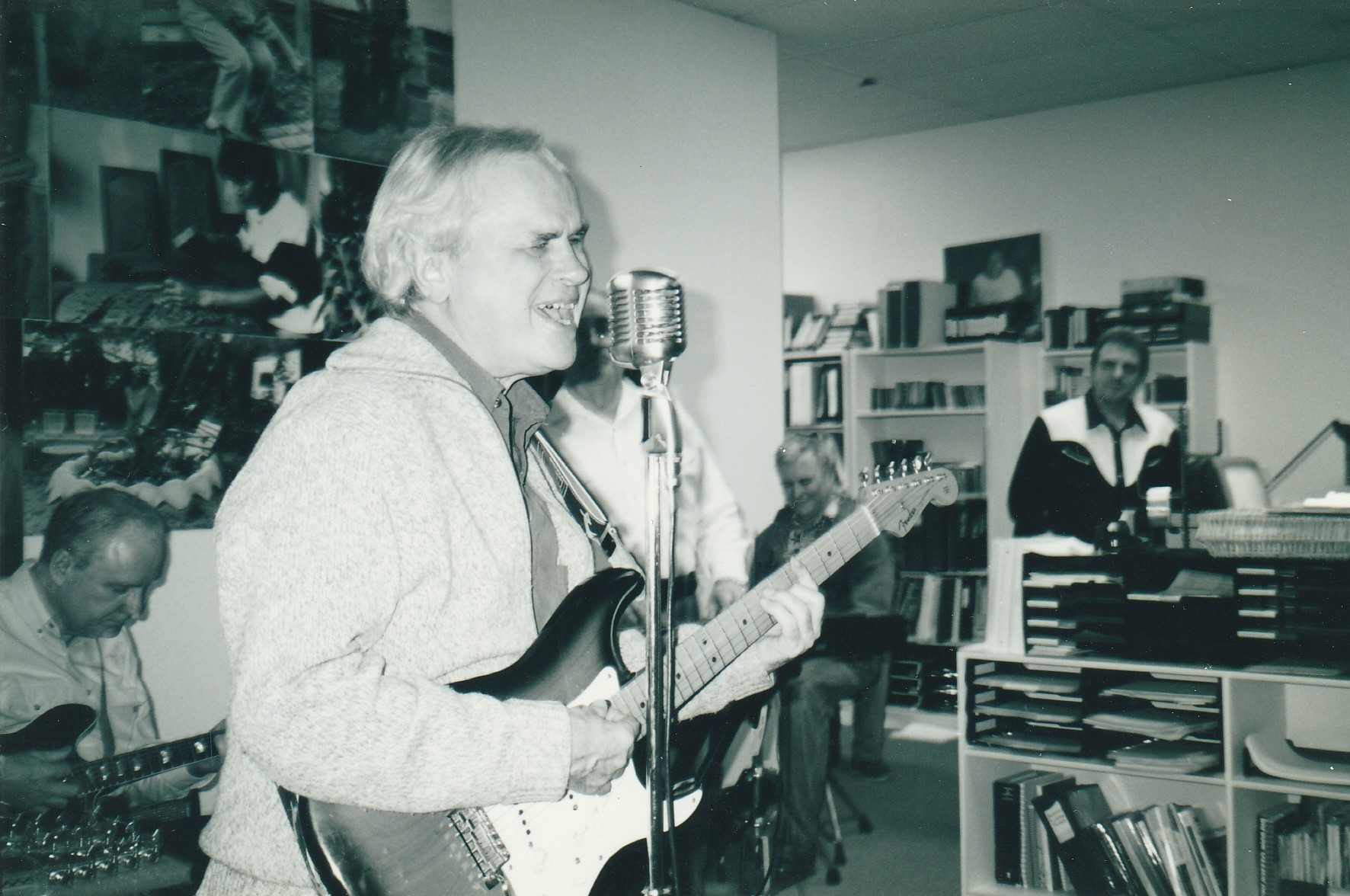 Rod Moag plays at the release party for his album Salute to the Heroes of Texas Swing, February 2003 (Photo by Tim Hertenberger)
Rodney Moag died last Thursday evening surrounded by his three children. All that week a stream of visitors had crowded his room in the Ascension Seton ICU, a loving parade of the friends he never stopped making, and who never seemed to fade away. He is survived by his daughter Robin Moag-May, sons Hugh (Dani Holmes Moag) and Jeff Moag (Nysa Williams), first wife Rachel Lileet-Foley, longtime companion Shirley Smith, stepdaughters Catherine (Nicholas Nuccio) and Jennifer Noble, as well as 11 grandchildren and four great-grandchildren. His only brother, Milton Moag, died in 1977, and his second wife Louisa Booth Noble died in 2011.
In lieu of flowers, the family asks that donations be made to KOOP Austin community radio or the Rod Moag Musical Trust for blind musicians. A jamboree celebrating his life will be held in Austin at a date to be determined. See rodmoag.com for details.
Article at The Austin Chronicle
---
---
Texas Western Swing Hall of Fame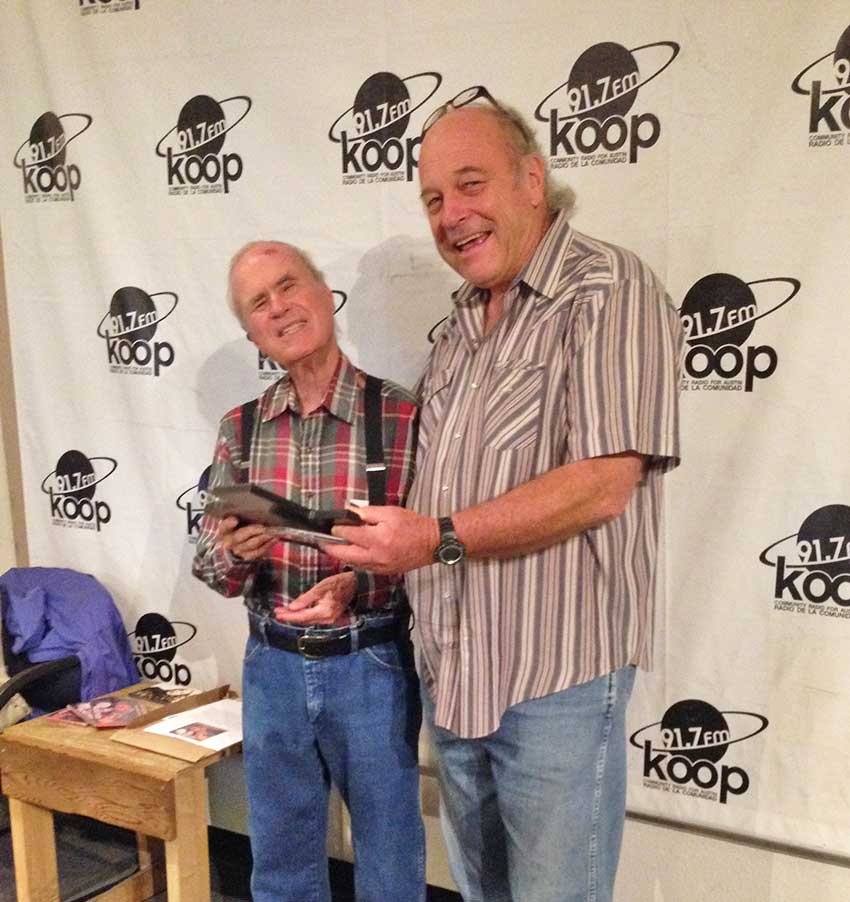 On May 16, 2015, Rod was inducted into the Texas Western Swing Hall of Fame. His plaque was not ready by Saturday afternoon when he was called to the stage to be officially inducted, so Al Dressen came to the KOOP studios and presented Rod with his plaque on air the following Thursday, May 21. This is the first year that deejays have been inducted.
Watch Rod on Youtube being inducted into the Texas Western Swing Hall Of Fame at the annual festival at San Marcos, TX, May 16 2015.
---
For over five years I've been working on a new album. I keep saying it's my final one, magnum opus and all that, but who knows.
It has lots of friends and special guests with a few more to come. The focus is reprising 1940s country.

The latest to sign on and record for the project is Dale Watson and his Lone Stars, pictured below with me on the porch of the studio: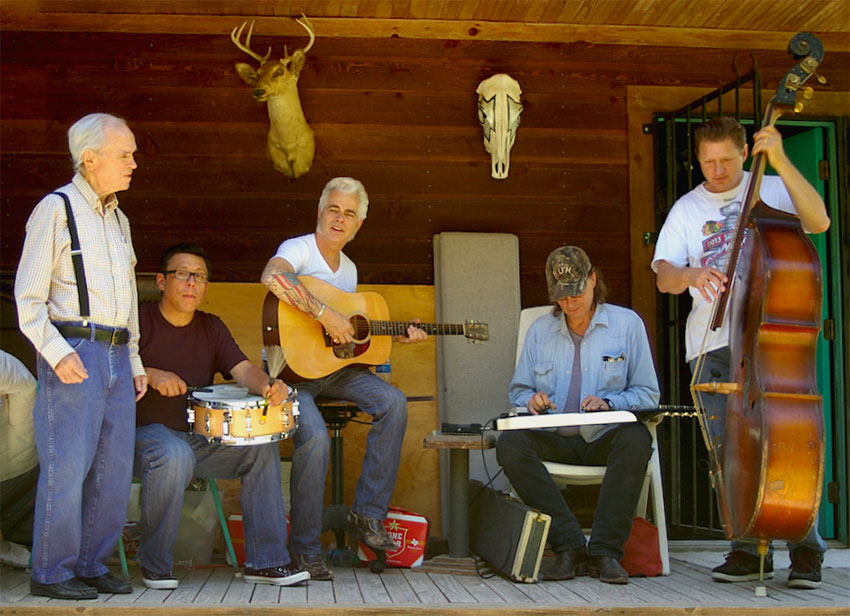 Left to Right: Producer Rod Moag, drummer Mike Bernal, Dale Watson, steel man Don Pawlak, and bassist Chris Crepps